It's time to relax, to reconnect and to experience the spectacular landscape of Fiordland. Pack your bags and head on a classic family adventure into New Zealand's largest National Park, we have put together a few tips that will ensure you are prepared for all that Fiordland throws your way.
Date 01 Mar 2021
When planning a family holiday to Fiordland, pack for all seasons!
No matter what time of year make sure that you have the following
a merino jersey
a sunhat
a decent raincoat
gumboots or any type of boots
layers or a change of clothes
As the locals around here say "there is no such thing as bad weather, only bad clothing!!"
It's not uncommon to head out for a day hike in the sunshine, then arrive to a summit with a freezing cold wind, if your prepared then you can embrace the changeable weather in the Fiords and Mountains. If you're hiking with young children Bev's Tramping Gear Hire have excellent equipment available to hire or Outside Sports and Fiordland Frontier in Te Anau stock an excellent range of outdoor wear.
Te Anau and Manapouri are beautiful lively towns to base yourselves in.
Most activities or day trips depart from these towns and head further into the National Park where there are very few or no cafes and or shops, so be sure to stock up on snacks. If your kids are like mine, then life is always easier with plenty of snacks and supplies. Speaking from experience there is nothing worse than hearing those two words "I'm hungry!!" on repeat all the way down a mountain. Oh, and don't forget your water bottle.
Sandflies are unpredictable, they have no rhyme or reason so be sure to purchase a good insect repellent. The townships are sandfly free zones (mostly) but if you head out into the fiords, mountains or forest then suddenly out of nowhere when you least expect it, they find you. Once again if you have layers of clothing to put on this is also helpful, cover that skin up.
Embrace the wild nature of Fiordland.
Let the kids stand under a waterfall for a 'glacial facial', hike through mud on one of the Great walks instead of trying to go around it, jump off a wharf, try your hand at catching a fish, call in native birds, sleep in a tent and check out our night sky or toast marshmallows on a campfire. Just be sure to check fire safety regulations before.
Get back to basics, Te Anau and Manapouri both have good internet connection but be prepared that back country huts, the fiords, rivers and lakes have little to no coverage. So, it's time to get back to some old school family fun, take a pack of cards, try your hand at charades, dust of your knuckle bones or throw some dice for yahztee in your pack. Small, lightweight games to pull out and entertain are lifesavers while off the grid.
What to do when it rains?
Chances are high that if you're in Fiordland for any extended period of time you could strike rain, now this rain could be a light shower at 6pm or it could be torrential rain for a week, but don't let that put you off. In our opinion the Fiord's are even better in the rain, waterfalls stream down mountains and the rain forest comes alive, pack a change of clothes and head out to experience the beauty of Fiordland in the rain. Or alternatively spend the day in Te Anau, hit the shops and cafes or head out to the glowworm caves. For some indoor favourites you can check out what's on at the cinema or try the Escape Room.
Check out more itineraries, family friendly activities or great accommodation options here.
Explore more Articles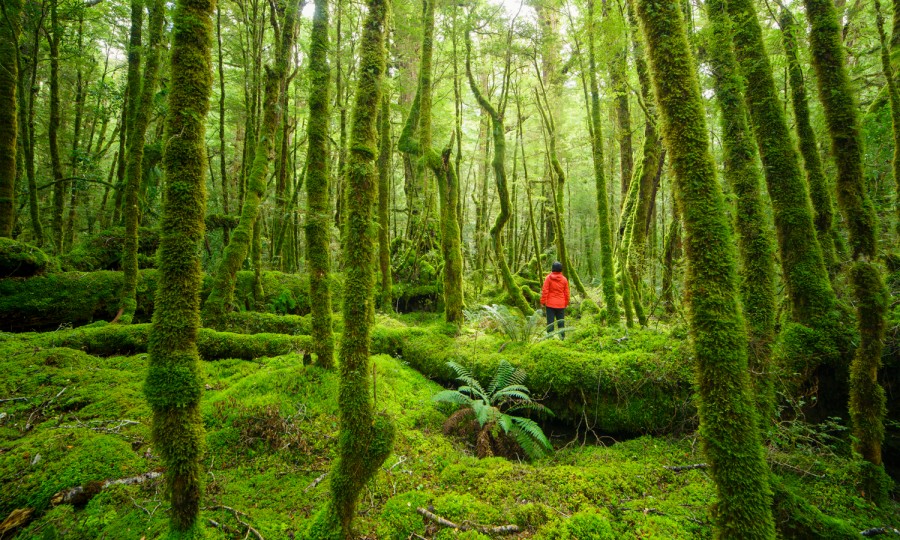 Fascinating Fiordland Podcast
Looking for information on what to do and where to visit while in Fiordland? This podcast is the perfect way to learn more, listen whil...